My Little Secret & Sad Story
Here's a little secret about me that may be one of the scariest things for me to reveal on the Internet. Amidst the talk of self-love and acceptance, there are exactly three things I don't like about my body: my tummy rolls, my extremely short eyelashes, and my side profile.
I know how it sounds like but hear me out. My tummy rolls are pretty easy to hide beneath my usual layers. (Unless of course I'm in the nude but by then I assume my partner is distracted by the boobs and butt!) With short lashes, it just means I need to put in a little bit more effort with my cat-eyed eyeliner in the mornings and stick on falsies for special occasions. But my side profile – what's up with that even being an issue?
For that, I'll have to take you back to when I was young, naive and in love. I was with a partner who hid his narcissism and gaslighting under the guise of "I only want you to be a better version of yourself". So he would buy me self-help books, sign up for educational courses, get work-related gadgets and label it under "oh this will help you be better at work and make more money." I would thank him and thought he was just looking out for me.
But underneath it, I always had the nagging undercurrent, "Am I not enough just as I am?"
The one thing he was a stickler for throughout our relationship, was my teeth. Now I loved my wide smile back then and I still love it now – it's one of my favourite parts about being me. But while my upper teeth were fine, I had an overbite which hid my crooked and overlapping lower teeth. He kept insisting that I looked good but will do much better if I had braces. And I'd explain to him that braces were super expensive and I didn't have the budget to fix it on a whim. Until the day we went back to visit his homeland and dropped by a quaint little goat farm. And I took a photo that's long been deleted but it was a picture of me from the side smiling right back at a baby goat .
When I look back, all I can recall is the warmth and excitement in my eyes at a cute little goat and what an adventure I was on in far-flung Colombia. Unfortunately when I saw that photo for the first time, all I could see was my crooked teeth and how I'd resembled the very same baby goat. Probably from the years of being put down for my teeth, that was the day I decided to opt for braces. And so I did, and he was extremely joyful about my decision (turns out he had a thing for girls in braces…) At the grand age of 31, I wore braces for the next 3 years. When finally I took it off and liked the results, I was proud to finally show it off to him. He smiled and mumbled under his breath, "Great, now all you have to do is fix your chin."
*stunned Pikachu face*
"Fix my chin? What's wrong with my chin?" I remember feeling so stunned and confused. "Oh, nothing.. I didn't say anything," he smirked and look away. After cajoling and a dramatic exaggerated sigh, "Don't you notice you don't have a chin?"
I wanted the ground to open up and swallow me whole. I held back my tears back then but it was the day it dawned on me finally, "You fucking asshole".
(My inner Malay Minah has a more appropriate response: "Kau ingat kau cantik sangat sial!")
So fast forward to present-day Rin, who was filling up The Pin-Up Rebels 'Getting To Know You' questionnaire for my boudoir shoot and came across this question:

"Is there something you are specifically self conscious about? If yes, what is it?"

Sadly despite dumping the ex, my fingers automatically typed: "my side profile"
But that's the only tragic part to this story which you need to know because after that, like every Main Character plot twist – it has a happy ending.
---
How I ended up with a boudoir shoot in 7 days
I've never been shy about parading around in my underwear since I started pole dancing almost 12 years ago. Sure I'm still not a fan of my tummy rolls but that didn't stop me in my workout gear or wearing beautiful lingerie. Another boyfriend got me into dressing up for the bedroom with his love for stockings and I enjoyed feeling feminine and oh-so-pretty. So I told myself, one day I'll do a boudoir shoot to mark a milestone in life. At first, it was going to be my 25th birthday. Then that came and went and I said "Ok, I'll do it when I'm 30." That appeared in a blink of an eye and I said to myself "Shit, my body isn't how I want it to look, it's alright – let's do it when I'm 35". Then 35 came and well, life struck and I figured, "You know what, let's get fit and toned and do it to celebrate my 40's".
Until one fine day last month when I slide into The Pin-Up Rebels DMs to tell her "I'm so jealous!" after Mary posted a picture of the gorgeous Honey Birdette's Equestrian Cuffs that's been on my wishlist. And Mary calmly asked, "I'm looking for someone to model this. Would you like to?"
I was like a little kid on Christmas who just got a puppy. I almost dropped my phone when I gasped and started dancing around the living room. I had the matching Kukuro set from the same brand and it was my dream shoot. I tried to stay professional as I texted her back a cautious 'Yes' as I was afraid I was going to jinx it before it was confirmed.
"Great, are you available next Friday? A shoot of mine got rescheduled…"
I had literally exactly 7 days to get ready.
A million things went buzzing in my head as they all zoom across each other.
"OMG THAT'S SO FAST!"
"Shit, I'm at my heaviest"
"I really want a new tattoo for this"
"Should I fast and go workout everyday?"
"I need a Brazilian"
"Can I still fit in my sets?"
"Oooo… what about pasties?"
"Mmmm do I have time to squeeze in a hair cut?"
"Oh man, what else should I wear?"
"I need to stretch more… I've lost my flexibility"
But the only words that mattered were: "Yup, I'm free on Friday. See you then!"
---
Meet The Pin-Up Rebels
Mary Violet Cliffe is the warm and wonderful founder of The Pin-up Rebels, who specializes in boudoir photography. I've been following her for quite a while now, not just because she takes incredible pictures but her inclusive portfolio consists of gorgeous women from all colours, shapes and sizes. She doesn't pander to the typical sexy bedroom scenes but tells a story of every woman and celebrates each subject's unique beauty and strength.
I never doubted how amazing the photos would turn out but I was still nervous about getting ready for it. As Mary explained, most women book their shoots a few months in advance for special occasions but might still get cold feet at the end of the day. I was jumping right in as we were both keen to explore a more risqué and edgier angle for the overall shoot. Let's just say, I'm more Curious, less Shy.
The Shoot: Hair & Make-Up
After giving up trying to lose weight in a week (but I did manage to get that last minute tattoo in!), I turned up early that Friday morning feeling super hungover and in no mood to strip bare and pose.
To Mary's credit, she was a wonderful presence in the lead-up throughout the week with various guides and questionnaires to check in and prepare me for the shoot. The very first email sent was the one I'd mentioned, a 'Getting to know you' style survey where you could go as detailed or brainstorm together with her on the type of look you're going for (e.g. make-up, outfits, mood), what you're comfortable with, what are your favourite features, what are your partner's favourite features, etc. She'd even asked what your favourite scents, morning drinks and snacks are! I felt like J.Lo already being asked to list out my dressing room rider.
Then a couple of days later, she sends over a guide of how to prepare for the shoot itself. (On normal occasions, these emails would be spread out across months to give you ample time to prepare!).

I did NOT follow the guide as I:
– got a tattoo the week of
– slept 3 hours the night before from working late
– didn't moisture enough
– had lots of milk and cheese when I'm lactose-intolerant
Basically I was a terrible model.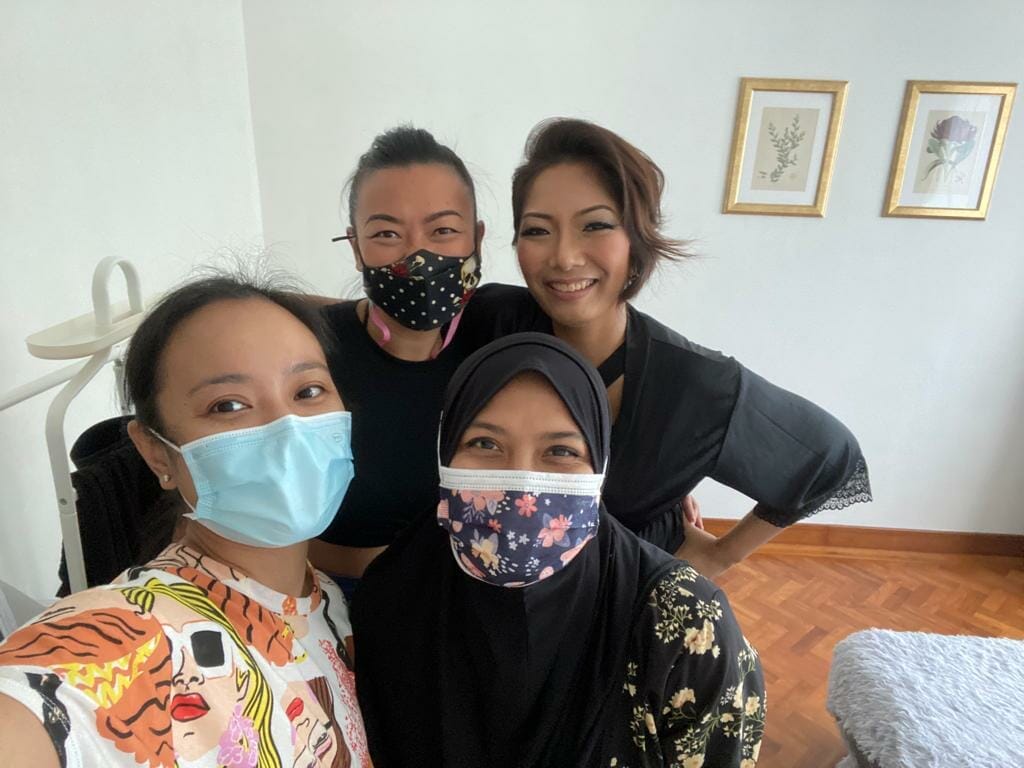 But when I arrived at her home-studio, I couldn't help but just sink into a calm and peaceful mood as my requested scent filled the air and she ordered my favourite Christmas Peppermint Mocha from Starbucks. As I was introduced to Teresa, my talented and hilarious make-up artist for the day and Nurul, the friendly assistant, I felt like this was my version of my wedding day. First, we went through the various outfits I'd brought alongside the extensive lingerie wardrobe Mary had as well (so don't worry about not having anything to wear!). After selecting the 3 looks, I sat in the chair and let Teresa do her magic as I held tightly onto my coffee cup and channeled J.Lo energy as 90's music blasted in the background and we all chatted like besties despite having just met. Meanwhile Mary was prepping with the props and figuring out which scenes would match my looks.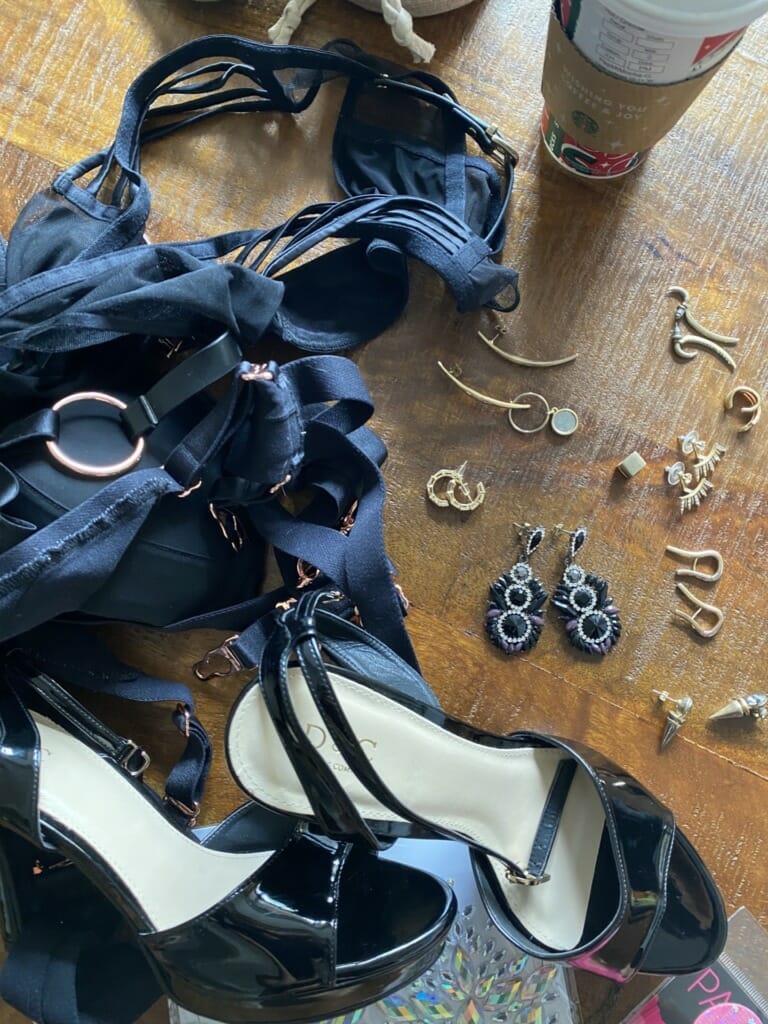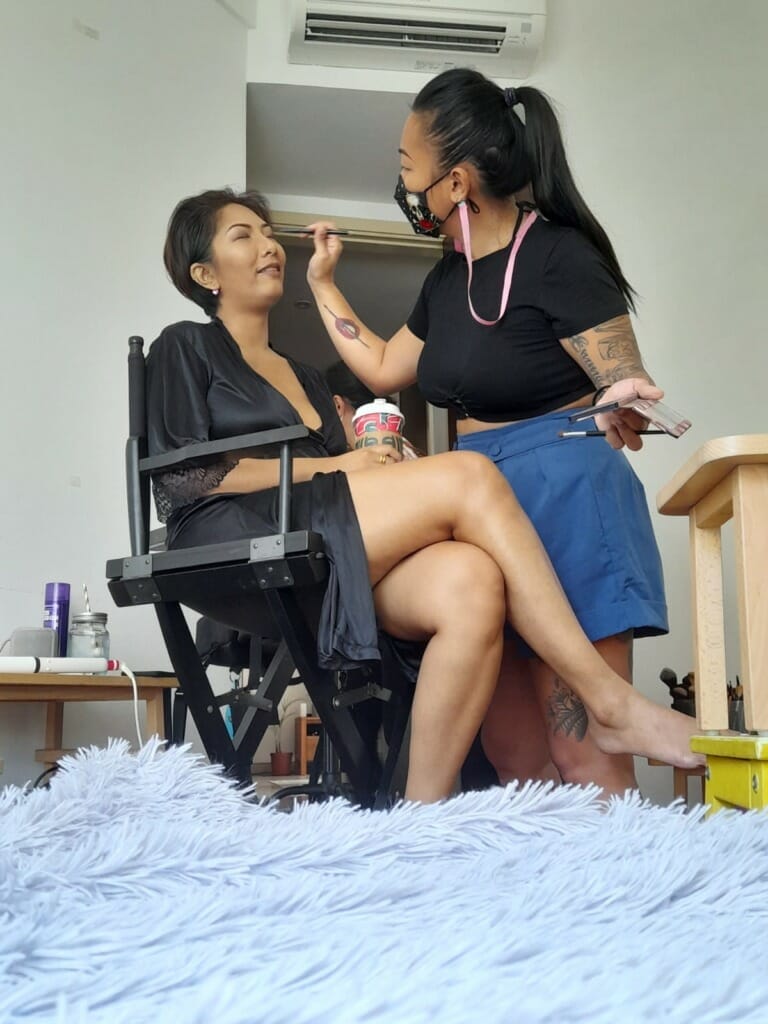 In my questionnaire, I've told Mary that I love the dramatic smokey eye and semi-retro looks of Nicole Pussycat Dolls and J.Lo and when Teresa showed me the mirror, that would be the first of many, many squeals of delight that day. It was exactly, yet better, than what I would have ever imagined on myself. I wanted to have a glam squad like this every. single. day. forever.
And as I watch in the mirror while 3 grown-women were trying to help me hoist my stockings and garter up, I couldn't help but laugh at how surreal the situation was yet incredibly beautiful and grateful I felt. "Everyone needs to feel this at least once…" were the thoughts running through my head.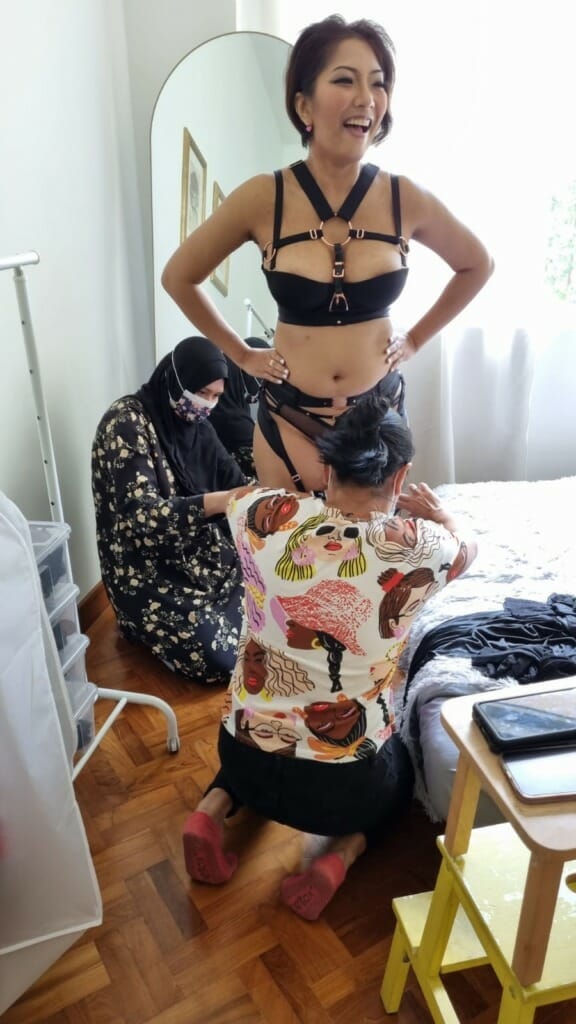 Then, as Mary warned me beforehand – the hard work came in.
The Shoot: WORK
I've to admit I kinda wished I'd gone back to pole dance for this part. As Mary eased me in since I was still nervous about actually getting my pictures taken, each booty pop, back arch and leg lift reminded me of my workout warm-ups. She was amazing at giving posing instructions though, especially when it came to facial features. She would coo "Oh look at the door, who's that? Who just walked in to see you being hot stuff??" and I would genuinely laugh my ass off while wondering how the final shots would look like. I've to say though, I didn't actually once suck my tummy in as Mary noted that she'll guide me through the best poses to highlight my favourite features.
As my energy waned between sets and looks, we would take quick snack breaks and she'll chat and share about the incredible women who have also gone on the same journey. It's never just about the final sexy photos, it's about claiming their own power. As we switched between sets, we got into our own rhythm and I got more comfortable literally in my skin as the layers shed and shed further until I was completely nude. (Obviously this was discussed before and consensual). Finally when she took the last shot of the day (we'd started at 9 and ended at 4pm), I was really tired but felt incredibly empowered and just simply really happy.
At the start of the shoot, while I was still in hair-and-make-up, she took a Polaroid of me and left it to the end to pass it back with a marker. After bonding with the ladies and feeling such lightness, she told me to write down the date and the reason why I did the shoot as a reminder to myself.
I laughed to myself as I was thinking of writing "Because I slid into your DMs". But then it clicked and I hurriedly jotted it down.
"Because I'm finally ME."
The Big Reveal
A week later, I found myself back at Mary's to view my final images and go through which ones I'll like to pick and keep for myself. I kinda assumed we'll just be looking through a laptop together to cull the images but was pleasantly surprised when she sat me at the couch with chocolate croissants, the big screen for the reveal and a very-much-needed large G&T. I was probably more nervous at the point of reveal versus the day of the shoot. What if I hate the pictures? What if I look like crap? What if I have to pretend I like them?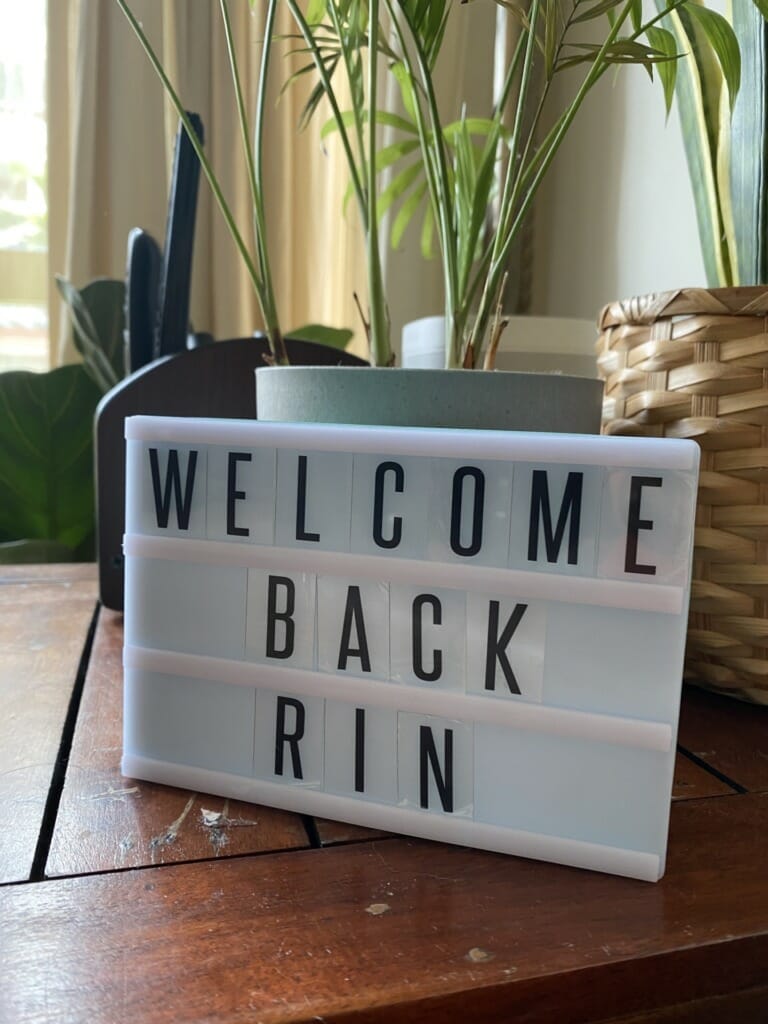 As though she read my mind, Mary gently reminded me that there's no right or wrong reaction to the reveal and that I can take my time and be honest about which ones to keep, toss or put it under maybe. And then she played the slideshow.
I'm going to let the behind-the-scenes video speak for itself.
We spent another hour or so deciding which ones to keep and which ones to let go. This time, I felt like I was an Art Director deciding which cover would make the cut like an episode of America's Next Top Model. But they were all of me.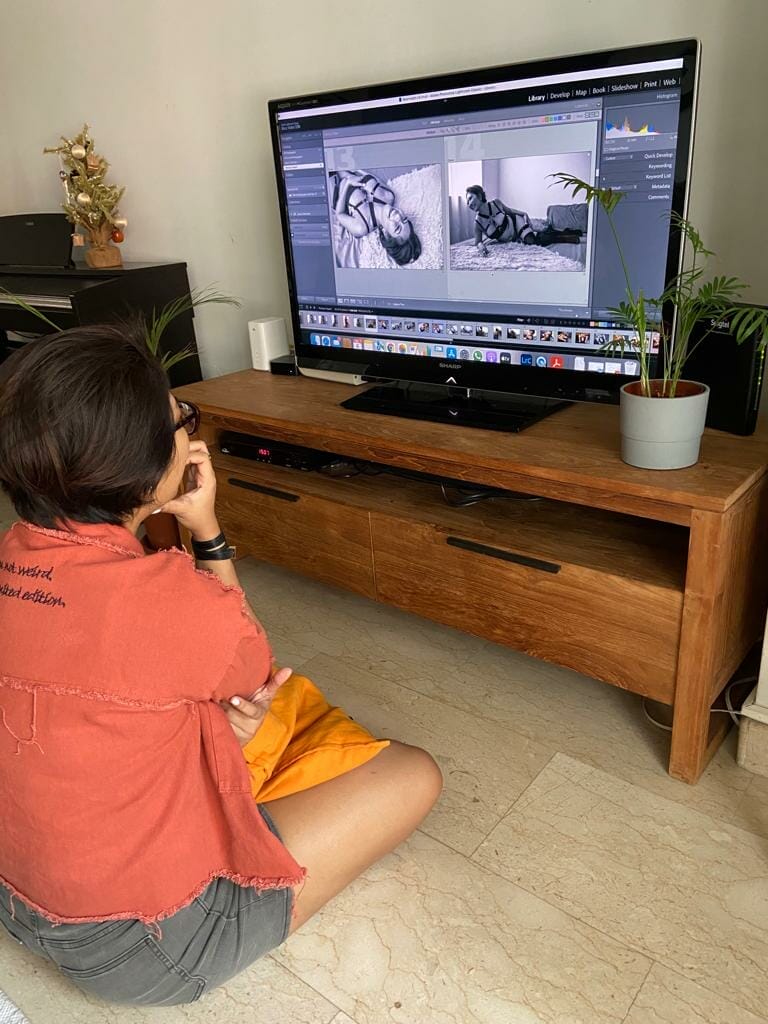 This surreal, vivid, beautiful, joyful, free-spirited version of me. I used to dream of being her. And now it was finally nice to meet her.
A couple of days later, Mary emailed me a link to the final retouched shots. And this time, while I did cry – I didn't want the ground to swallow me whole. I wanted to shout it across the mountain tops and splash it across billboards.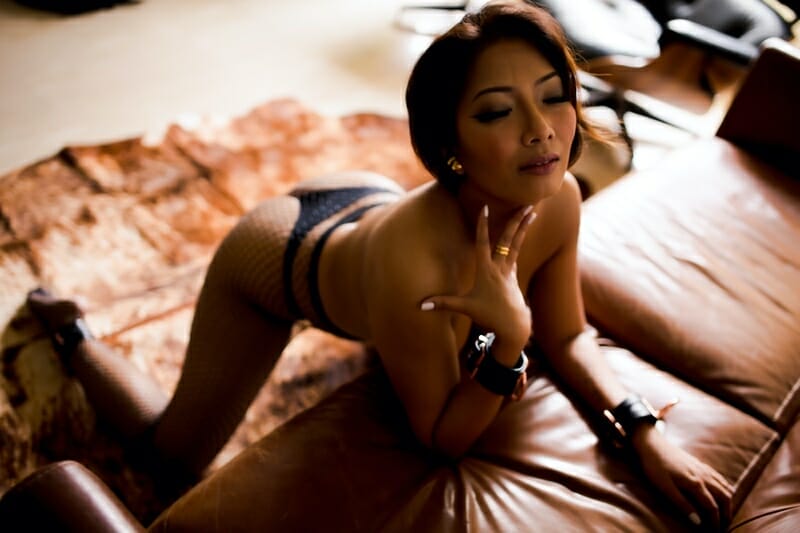 It's so hard to pick a favourite– I love them all. It's like asking who my favourite child is. Each shot told a story, not just of my body and expressions but what I loved about myself. What my partners loved about me. What I loved from the past that got me started on this journey (Hello homage to Tom Ford Gucci!) What I stand for now. What I plan to stand for in the future.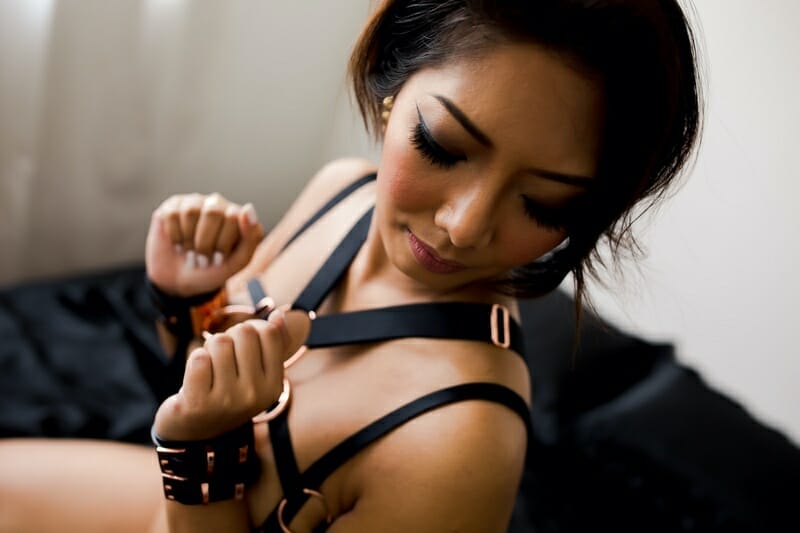 This is me. This is my 37 years of trying, learning, losing, unlearning, winning and while still a work-in-progress, I am finally unapologetically ME. I can't wait to see what she's up to next.
To find out more about The Pin-Up Rebels and boudoir photography, get in touch with Mary Violet Cliffe who's now taking bookings for 2022!