If you're just as superstitious as I am, you'll probably know that if you come across the digits 11.11 in your everyday life – like glancing at the digital clock, seeing a license plate or even a receipt number – that's a lucky sign! Nowadays we also know it as the yearly Single Day sales that just happen to fall on November 11th. The shopaholic in me is certainly glad to add another date on the calendar for retail therapy but the romantic moi still prefers to see 11.11 as a sign that all your wishes will come true.
So speaking of wish-fulfillment, when I found out that Fermata had just launched their marketplace in Singapore last month, it seemed like a moment of synchronicity since they carry the wonderful OhNut which was highlighted in our previous blog post: Turning the 'Ouch' to 'Oooo': 3 Ways to Make Sex Less Painful.
We had to dig a little deeper of course and found out that Fermata is a Femtech (female + technology = improve women's health and wellbeing) platform that originated from Japan and aims to "(turn) Taboos into Triumphs".
I found myself furiously nodding at their values and secretly hoping to be their best friend:
When girls become women, we embark on an exciting journey of self-discovery. Our hormonal changes combined with the ignition of our sexual desires should be a cause for celebration and pride. Instead, we often find ourselves confronted with self-doubt, shame, and tough questions. "Am I enough?", "Why am I single?", and "I shouldn't have these thoughts", all of which are rooted in taboos our society has imposed on us as women.
And so Fermata was born to close the opportunity gap and help women with issues like period health, sexual wellness and fertility. They're women-led and carry similar global brands that champion diversity and body-positivity. We're so excited to welcome them to the local scene and can't wait to explore the amazing brands and innovations they're bringing in!
Fast-forward to synchronicity again, Fermata is launching an 11.11 sale where for 48 hours, take 20% off all their sexual wellness products! If you've been following our Sex Toy 101 guide, you'll know that this is a great opportunity to start your collection with reputable brands at a steal. We were asked to pick our top recommendations for the sale and here's what we're adding to cart: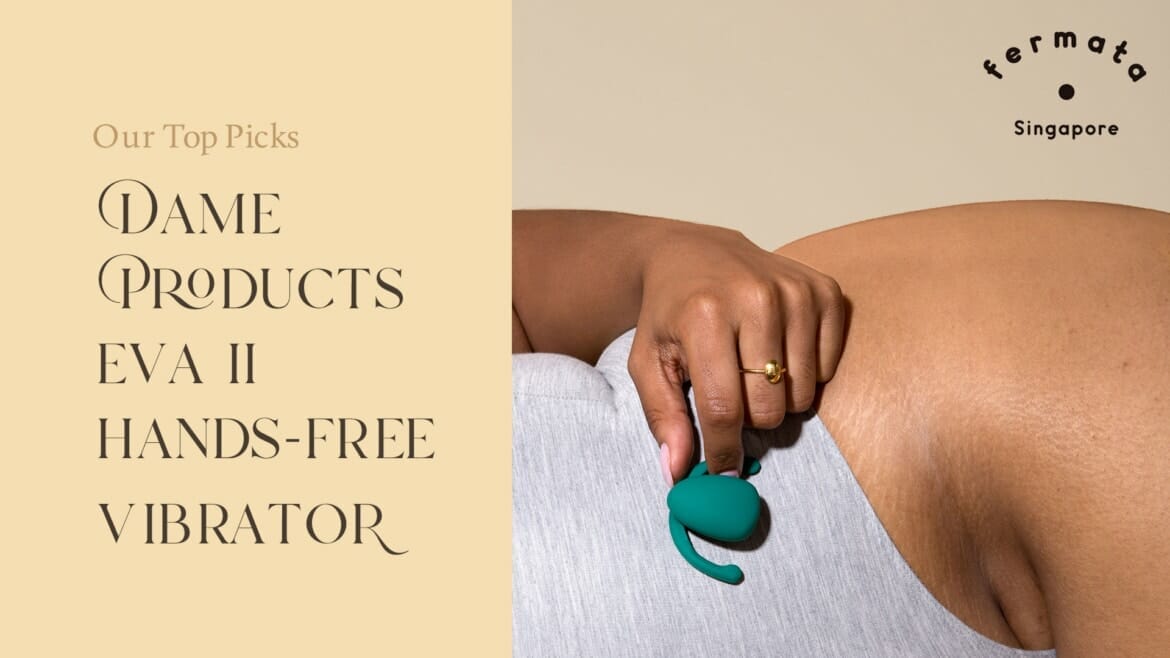 1. Eva II Hands-Free Vibrator
By Dame Products
Great For: Solo, Couples
Type of Pleasure: External
Original Retail Price: S$186
Sale: $148.80
When we saw this cutie, we weren't really sure what to make of its interesting shape. Then when we realize how its little 'wings' work to fit comfortably in the vulva when it's nestled under the labia, our brain lit up and said 'SOLD!'
The Eva II is meant to be a hands-free vibrator and works exceptionally well during partnered sex as you can still experience penetration alongside clitoral stimulation. Imagine a nice buzzy friend giving your clit a hug so that your hands won't cramp up and are free to roam around your partner. raises eyebrow knowingly
This also means that you can switch up positions with your partner without having that awkward pause and trying to figure out where to place the toy. Or if you prefer it for solo play, the Eva II is also perfect for your hands to roam around your own body and find your unique erogenous spots. Maybe snuggle up with the toy while you hold your phone with the latest erotica e-book or film. Whatever literally rocks your socks off, it's up to your imagination!
Bonus points: Waterproof, Rechargeable, and comes with a sleek charging base/travel case (kinda like AirPods)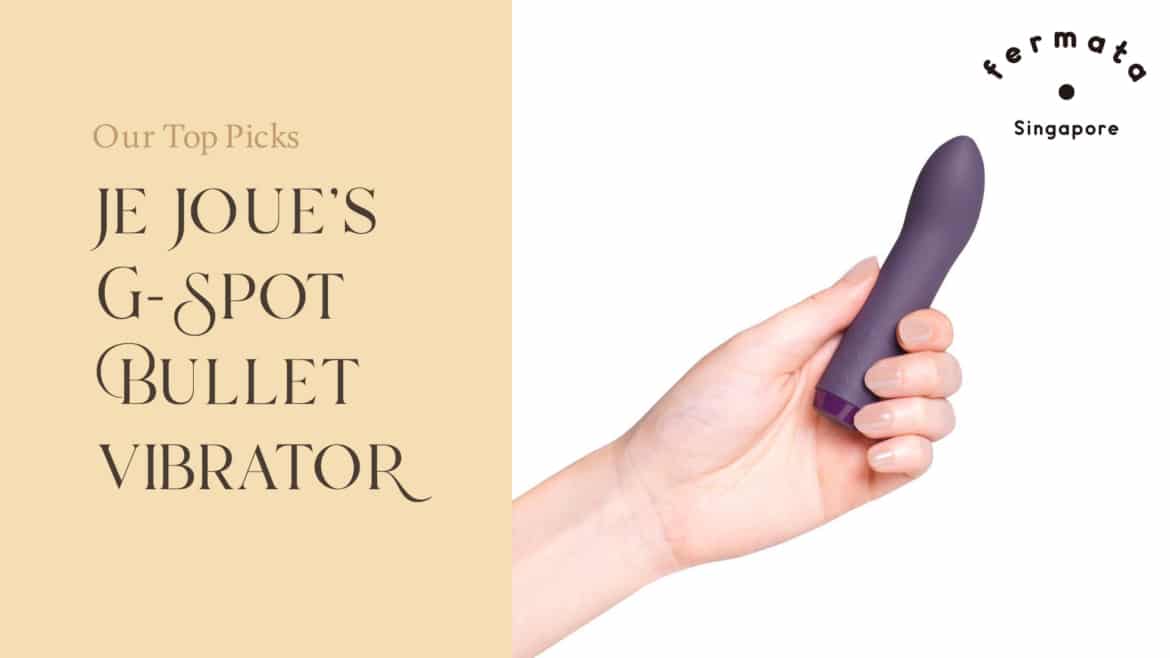 2. G-Spot Bullet Vibrator
By Je Joue
Great For: Solo, Couples
Type of Pleasure: Internal
Original Retail Price: S$82
Sale: $65.60
We've had our eye on a G-Spot toy to add to our collection for quite a while now and this chic model checks off our shopping list!
First, what's this elusive creature called the G-Spot? The G-Spot is the urethral sponge hitting up against the vaginal wall and often requires a slight curve pressure (whether fingers or a toy) to reach and stimulate. It's not as straightforward as stimulating the clitoris and yet it's been noted as generating intense and powerful orgasms in contrast to a clitoral climax. Don't think you've had one before? You're not alone and that's why it's usually compared to a treasure hunt when it comes to finding the G.
That's why Je Joue's G-Spot Bullet is a sex toy we'll want to pack on this treasure hunt. With 5 speeds and 7 patterns, the vibrations of the bullet is quiet yet powerful enough for play as a starter sex toy. Feel free to start off with external stimulation with its ergonomic curves around the clitoris and labia. Once you feel aroused enough, insert the bullet and explore with up and down; and rocking motions to stimulate the G-spot. What we also love about it is it's minimalistic and chic look and it's small size that won't freak out your partner if it's your first time introducing a pleasure tool in the bedroom together. We wished we'd added it sooner to our arsenal!
Bonus points: Waterproof, Rechargeable, luxe look
3. Wearable Buffer Rings
By Ohnut
Great For: Couples
Type of Pleasure: Internal (Serves as buffer during penetration)
Original Retail Price: S$92.80
Sale: $74.24
We can't stop gushing about this innovative sexual aid tool since discovering how it can help with couples who may find PIV sex uncomfortable or painful because of too-deep penetration. Helmed by Emily Sauer, she decided to take matters into her own hands after being ignored by several gyn's for over 10 years when she expressed how sex can be painful for her. So after creating her own prototype and designing with renown pelvic specialists, the OhNut rings were born.
Each of the 4 rings can be worn linked together or individually (on a penis or toy) to serve as a buffer and adjust for comfort at any time during any position. If you're thinking "Mmm.. well sex doesn't hurt for me, do I still want one?", we'll go ahead with a resounding YES. I'm sure we've had moments where our partners might get a little too excited when (excuse our French) pounding away and saying "Hey babe, could you slow down?" might not be that effective.
Who could blame them, you sexy thing? 😉
Along the same reasoning, it might also help your partner enjoy the moment more without being in the headspace of "Am I going too fast? Am I hurting her?". Or if you're looking to explore other orifices that can also give and receive pleasure (a.k.a anal penetration and blowjobs for those who may miss the subtlety), we think the Oh Nut is that magical Swiss Army knife.
Bonus points: FDA approved body- and skin-safe polymer blend, chic sculptural look
If you've been intrigued by the idea of adding a sex toy to your solo and/or couple play, the Fermata 11.11 sale is definitely your gateway to dipping your toes in the pool and discovering the pleasures of a toy. Remember that a sex toy isn't a substitute for your partner or saying they're not enough, it's an aid to know and own your sensuality so you have a better relationship with your body. Now excuse us as we get our fingers busy in more ways than one…
Promotion valid from Wednesday Nov. 11 12am to Thursday Nov. 12 11:59pm SGT. No promo code needed to access the 20% discount for all sexual wellness products.

All of Shy & Curious's picks are independently selected by yours truly. All product details, prices and availability are accurate as at the time of publication.