Illustrations by Sarah Cheok, Photographs and videos by Olivia Griselda

As the saying goes, you'll never forget your first. The first kiss. The first love. The first sex toy. And that's how Singapore-based filmmaker Olivia Griselda got inspired by the tragic ending of her first sex toy, to join forces with her co-director Sarah Cheok in a whimsical animation called She and Her Good Vibrations.

She and Her Good Vibrations is a comedy that celebrates female self-pleasure and sex-positivity. The animation short film follows a stressed-out, overworked woman who discovers the wonders of a vibrator, but she soon becomes addicted and loses touch with reality. (Which can happen to any one of us!)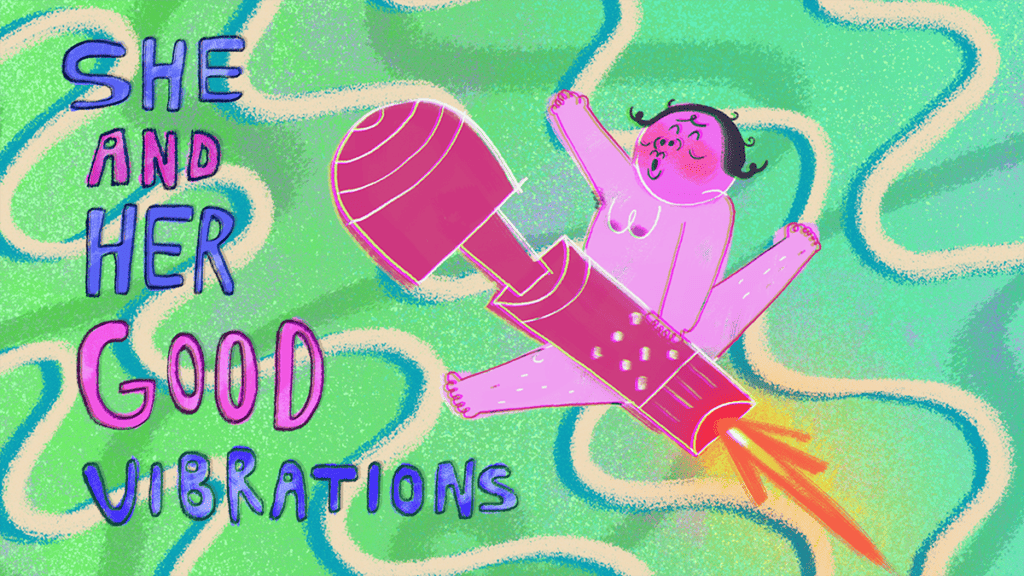 They've already hit their Kickstarter goal (WOOHOO!) and are now in the last leg of raising funds to reach their stretch goals for post-production and campaign costs. We sit down with Olivia for a fun chat about her toy collection, challenges on working on this project and what would she do if she could go back in time to the start of her sexual awakening.
---
• What was your very first sex toy/accessory?
It's a palm-sized, wand-shaped hand massager that my university friend gave to me. She bought it while visiting Thailand at a night market, and it was on a one-for-one promotion deal.
Its packaging labels it as a hand massager, but it's a vibrator! It's easy to use, handy (haha), and functional. I used it so much that it finally broke down one month later.
This is the vibrator that inspired me to write my animation comedy short film, "She and Her Good Vibrations".
• What was your very next one? And why?
It took me three years to finally buy my next vibrator because I was worried that I'll get hooked to another vibrator again hahaha.
I bought Smile Makers' Firefighter. I first came across their brand at the sexual wellness festival Spark Fest Asia 2018. I was tickled by how funny they named their different vibrators! I took their online quiz to get their vibrator recommendation. I was looking for clitoral stimulation. Unfortunately, the toy wasn't a good fit for me. It made me realise not all toys focusing on clitoral stimulation are the same. Different toys would suit different people's pleasure needs. There may be other Smile Makers toys that better suit my needs!
I bought Hedonist Tribe's Euphoria Clit Sucker (Editor's Note: Psst…it's also one of our top 5 toys so use SHY&CURIOUS to take 10% off!) a few months ago. I was curious about its suction function which is designed to mimic oral sex. Well, it works effectively – too effectively! It's literally instant gratification hahaha. Most times, I prefer to take things slower, so it's great that the toy has a shaft to play with too.
• What was the most challenging/interesting thing you've encountered during the creative process?
Both the film's co-director Sarah Cheok and I are juggling day jobs and working on the film at the same time, so it has been a challenge of working smartly during the weekends and weekday evenings.

This is my first time co-directing a film. During the storyboarding stage, Sarah would pass me new frame drawings each week. I'll then stitch them on Adobe Premiere Pro and add sound effects and music. We then start to edit the story's rhythm and pacing. For example, we identify which scenes we are going to keep or remove.
This is my first animation project. I've previously made a few live-action films. Because I don't know how to draw properly (especially compared to Sarah who's a talented illustrator and animator), I lean on Sarah's drawing and animation expertise for the film. I'm always surprised and excited by how Sarah envisions the scenes that I wrote in the film script! My strength is editing, selecting sound and music, and refining the film's comedy beats. A few of my previous films are comedic, and I've done a few stand-up comedy open mics before the pandemic.
• If you could invite anyone in the world to the premiere screening, who would it be and why?
I will invite my friend who gave me the vibrator! And also my acting teacher Kamil Haque. He encouraged me to share my real-life story with the vibrator in his acting school's real-story showcase. The audience was laughing so hard when I shared my story, especially the ladies. Their reaction and Kamil's support spurred me to think about how I could take this story even further.
I would also invite my Mom, who lives in Jakarta, to watch the film. She has been very supportive of my filmmaking career. She saw my previous film "Just Because We're Friends". Because the film has sex and masturbation scenes, I was at first worried over how she would react to it. But after the film screening, she encouraged me to continue making films. I took that as a positive sign hahaha.

• If you could go back in time to the start of your sexual awakening, what would you change?
I thought hard about this, and I don't think I would change anything. I first got curious about sex and sexuality when I was around 17 years old because of the Dr. Oz segments in the Oprah Winfrey show hahaha. One of the things I remembered learning was how eating celery changes the taste of semen or vagina in a good way hahaha. So during my Junior College (JC) recess breaks, I would share some sex-related tidbits with my friends. Most of them are amused by it, and thankfully, they were never judgmental or critical towards me. I guess they were also secretly curious!
My Mom was also openly talking about sex to me. When I was in JC, one evening while she and I were having dinner, she randomly said she would be OK with me having sex as long as I don't get pregnant. Her remark caught me off-guard – I didn't know how to react to it, so I just said OK hahaha. At another instance, she explained the IUD and contraceptives to me – she had visited a gynecologist earlier that day and shared about her visit with me.
I guess I was lucky that I grew up in an environment where I could talk about sex and sexuality without any sense of shame. It made me comfortable talking about it.

---
Thanks Olivia and Sarah for paving the way for female-centric and positive sex and body depictions in the media! We can't wait to see the animation come to life (pun fully intended!)

Support and show She and Her Good Vibrations some love on their socials:

• Kickstarter Campaign (ends on Dec 11 2021!)
• Facebook
• Instagram
• Twitter
#shevibrations