We get it – Valentine's Day is one of those occasions where you'll either gleefully count down to celebrate with your honey, or loathe its mention and become the equivalent of a 14th Feb Grinch. I used to lean towards Team Meh because like The Grinch, I was just as green with envy at others whether I was single or in a relationship. If I was single, it was "Oh woe is me, I'm all alone and will never be loved!". If I was in a relationship, it was "Oh woe is me, my boyfriend bought me a Bluetooth Powerpoint remote control. Why can't I just get flowers and jewellery like a normal girl?"
Lesson learned: It all starts with me. My partner isn't a mind reader and gratitude is always sexy, 365 days a year.
It also means that if you really have your eye on something and want to avoid getting a gadget as a gift (unless it's specifically designed to rock your world), you need to give them a hint at the very least. Here's where we come in – welcome to our first Valentine's Day Gift Guide!
We know that chances are if you're reading this, you're still exploring and discovering what sexual empowerment and receiving pleasure is for your body and self. That also probably means you might not be ready to ask your partner for a 9" Glow-In-Dark Dildo (yet).
Buying a sex toy or a bedroom accessory may feel overwhelming to some, especially if you're new and unsure of whether it'll work for you or not. Others might just see it as indulgent and an unnecessary luxury since they might end up being just used sparingly and behind closed doors.
That's how we got the idea for this themed guide: Hidden in Plain Sight
You know how there's always make-up tutorials that take you from day-to-night looks? I went through my own personal favorites for a list of tried-and-tested recommendations that are not only chic and sleek, they do double-duty as they can be used in two different and discreet ways.
Pretend you're a spy as you go about your daily life with these cool accessories, and have the thrill of knowing something that only your partner will get to share.
We were also very fortunate to work with some amazing partners and friends of Shy & Curious – ZaZaZu and Fermata Singapore, to bring special deals just for you. Check out their exclusive promotions at the end of the guide because saving money is always a turn-on 😉
---
1. Crave Vesper Vibrator Necklace

The Crave's Vesper may seem familiar to readers with sharp eyes who may have noticed this sleek tool in our previous post Sex Toys 101: Debunking the Sex Toy Myth. One of the pioneers of the 2-in-1 sex toy jewellery, Crave is founded by Ti Chang who designs beautiful sexual wellness tools and accessories for women, by women. This vibrator necklace is powerful yet quiet with 4 power settings and rechargeable by USB. It's body-safe as the body, tip, and chain are made of high polish 316 stainless steel.
I've owned two Vespers (PSA: It's NOT waterproof, just splash-proof) and it never fails to start a conversation with gals and guys alike. Wear it out for a night on the town or layer it with your other necklaces to make it a tiered statement. Or if you're still a little shy, slip it discreetly into your purse since you'll never know when someone's getting lucky.

Available at ZaZaZu, SGD$129
Editor's Note: Take 5% off storewide with the code 'SHY5' at zazazu.vip
---
2. Bijoux Indiscret Necklace Whip

When I first saw the Bijoux Indiscrets Necklace Whip on ZaZaZu's instagram story, I audibly gasped. TAKE.MY.MONEY.PLEASE.

If you're looking for a companion to Crave's Vesper Vibrating Necklace, well then say hello to this chic necklace-slash-whip-slash-flogger. Live out your Mrs Grey's fantasy simply by taking off the necklace and holding it by its handle to engage in sensation play. It still feels solid despite being lightweight and does pack a punch if used to strike someone hard. Not really in the mood for BDSM? Use massage oils or lube on your partner/your skin and then let the beaded chains trail over the different body parts to tickle and savour the tactile sensations.

Unfortunately the Necklace Whip is out of stock on ZaZaZu but another beautiful substitute that falls in the same realm is the Diamond Vibrator.
Diamond Vibrator

No one would be the wiser if you placed the Diamond Vibrator on your desk as a gorgeous paper-weight. With the different facets and rounded edges, this waterproof and rechargeable vibrator should be used externally to explore the different erogenous zones on your body and vulva. And if you're still working at your desk and need a neck massage desperately, wouldn't you rather pick this beauty up for your aches instead of reaching for Tiger Balm?

Available at ZaZaZu, SGD$109
Editor's Note: Take 5% off storewide with the code 'SHY5' at zazazu.vip
---
3. Unbound Cleo Bangle Handcuffs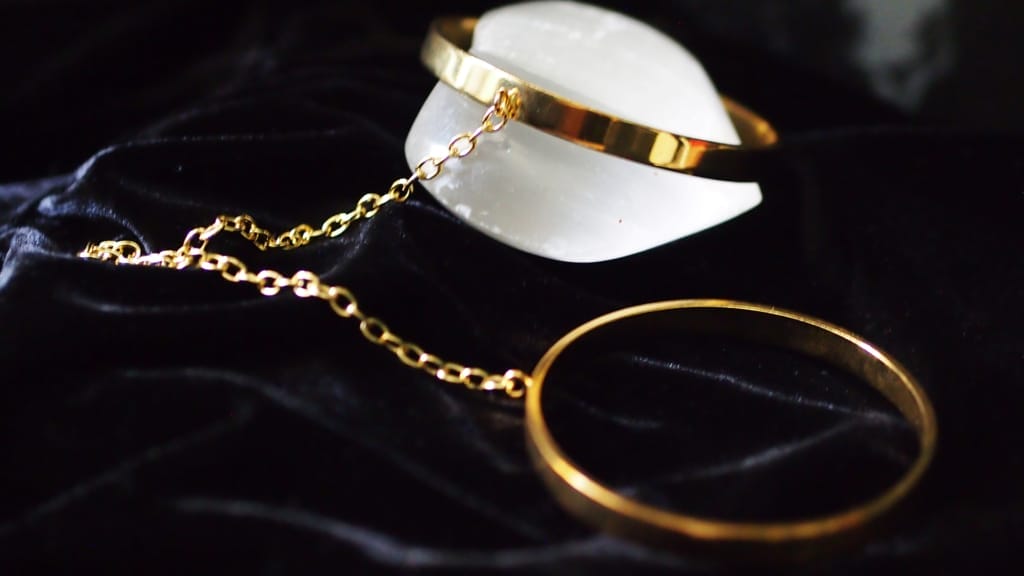 Unbound is an American brand that champions diversity and sexual inclusivity. We love brands with a purpose which is why we personally own two of their products, the Cleo Bangle Handcuffs and the Palma Ring Vibrator.

If you can't tell by now, I'm a sucker for anything gold, black and witty. The Cleo Bangle Handcuffs fits two out of three with its 24k Gold plated finish that's extremely wearable out of the bedroom and the clever pun engraved on both cuffs: THERE IS FREEDOM IN RESTRAINT. Unfortunately the Cleo Bangle Handcuffs are no longer in production so you might either have to find them second-hand (don't worry, they're stainless steel so easy to sterilize) or if you like them even shinnier, check out the Rianne S Handcuffs Icons Diamond.
Rianne S Handcuffs Icons Diamond

If Unbound Cleo Bangle Handcuffs are an everyday piece, the Rianne S Handcuffs Icons Diamond are the big guns you bring out to the fancy ball! Made of nickel-free metal and gold, purple and black gradient sparkles, wear them with a black chic gown and pretend you're agent Angelina Jolie seducing the enemy over dinner. Once they're ready to talk, you have everything you need for the interrogation 😉

Available at ZaZaZu, SGD$69
Editor's Note: Take 5% off storewide with the code 'SHY5' at zazazu.vip
---
4. Unbound Palma Vibrator Ring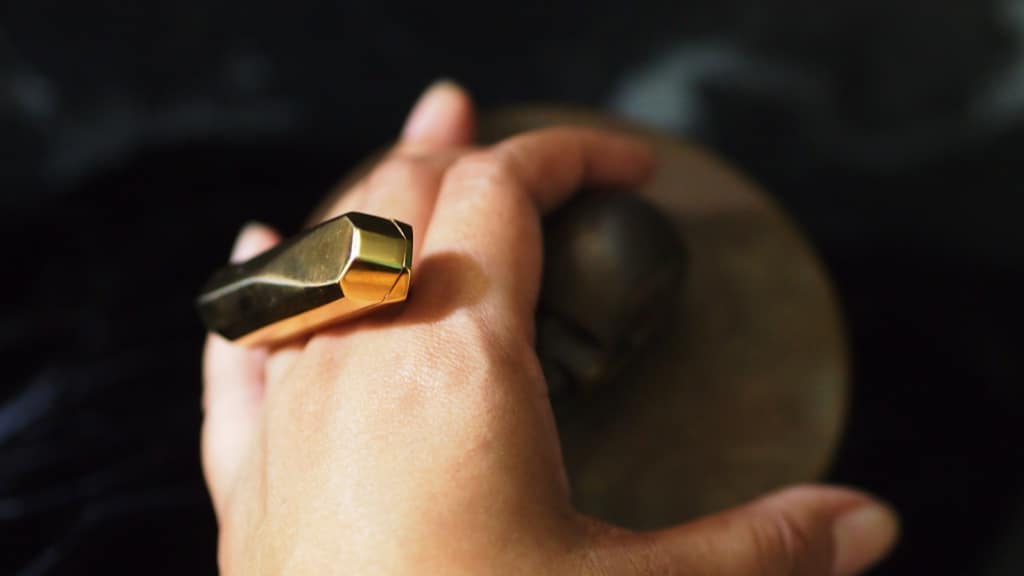 If you're not a necklace person, we have another subtle beauty for you. Say hello to the Palma Vibrator Ring! This cool and solid stainless steel ring has a secret underneath it – a small button that lets you turn it into a vibrator with three speeds. You can also twist the ring so that the vibrator face is either horizontal or vertical so you can use it for external stimulation in whichever way that's comfortable. Feeling adventurous? Use it with your partner with consent while giving a handjob/blowjob so that they get to enjoy the variety of vibrations.

Available at Unbound, SGD$132
5. SUTIL Love Potion Massage Oil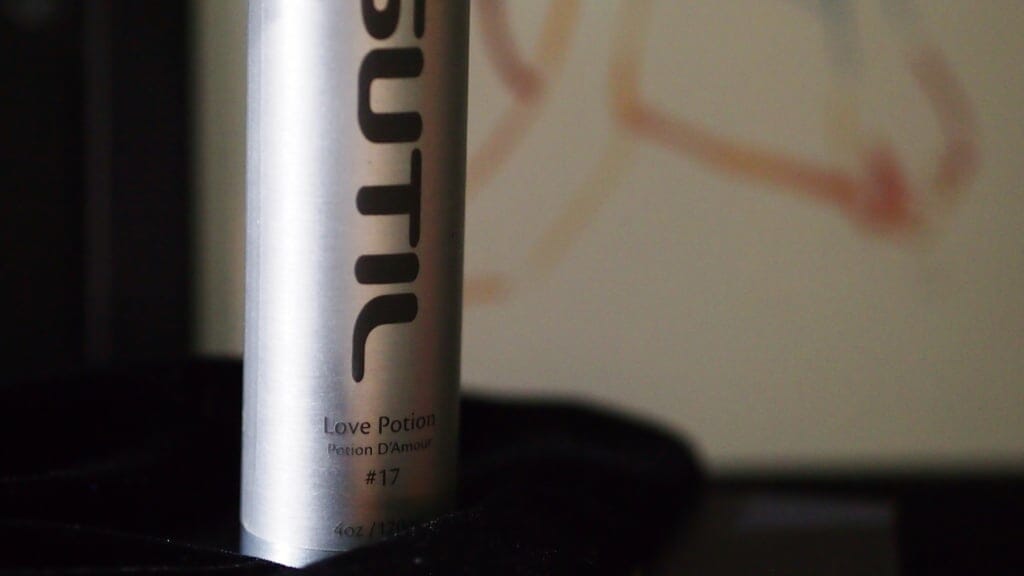 What do you get when you combine essential oils, massage oil and lube? You'll get SUTIL's Love Potion Massage Oil! Launched just in time for the month of love by our friends at Fermata, there are two different vegan blend Love Potions for your olfactory pleasure. The original No #17 is made with Almond Oil, Ylang Ylang, Geranium, Cedarwood, Tangerine, Cinnamon, Ginger & Vit. E. For those who prefer something headier, there's No #23 that contains Lime, Pink Grapefruit, Frankincense, Jasmin and Vetiver instead.
We know what you're asking, isn't fragrance bad for oils and lubes down there? It's fragrance-free, but with aromatherapy properties instead as they're ethically cultivated from aromatic plants with aphrodisiac properties. If you're naturally sensitive, do a test patch on your skin first just in case!
When I got my Love Potion #17 Massage Oil, I was impressed by the chic metal bottle and how light both the scent and oil was. Scent is my turn-on so I was a little worried it would have been too strong or sweet and sickly but the citrusy smell is warm yet refreshing. I did a sniff test with some of my friends and they agreed that universally it was calming and spa-like. With the modern and androgynous bottles, they also make great gifts for your guy.
So, apart as doubling up as massage oil and lube*, how else can you use SUTIL'S Love Potion? I've a confession – I've been using it as a moisturizer for my dry legs! Even though it's an oil, it absorbs quickly into the skin and doesn't feel sticky or oily. The scent does fade after a few hours when I'm out and about so it doesn't clash with my regular perfume. At this rate, I'm probably going to try out the other scent and stock up these gorgeous silver canisters!

(*PSA: If you're planning to use latex condoms, please do not use with oil lubes as there's a higher risk of condom tear/rips.)

Available at Fermata Singapore, SGD$39.90
Editor's Note: $20 OFF all sexual wellness products and get a FREE SUTIL natural lube at Fermata Singapore
---
6: Mya Harmony Ball Pendant Diffuser
Speaking of scents, the last item on our list is a personal favourite of mine. While it's not a bedroom accessory per se, MYA's Harmony Ball Pendant Diffuser makes a great Valentine's gift! MYA is a Singaporean jewellery line that specializes in gemstone and artisanal pieces. The Harmony Ball Pendent is a clever pendent that comes with both a brass ball inside that can be opened up and replaced with a Hinoki Wood cube that you can drop some essential oils (or maybe some SUTIL Love Potion) on so that it becomes a personal aromatherapy diffuser.
Sure it's pretty, but why is it a romantic gift? – you ask. Well if you're missing your special person, just spritz the wooden cube with their perfume and you'll always feel like they're around.

Available at MYA, SGD$55
---
We hope you enjoyed this gift guide as much as we had fun curating and styling the products for you! If you need an easy way to hint to your partner, find us on Instagram and just share the exact item so that you won't end up with a dud gift ever again. Or you know, just go and get what you want yourself since you're already in love with you 😉
Thank you to our friends at ZaZaZu and Fermata for supporting our gift guide and setting up these sweet deals for our readers so do check these femtech companies and support them too!



While we may occasionally use affiliate links on our site, all of Shy & Curious's picks are independently selected by yours truly. All product details, prices and availability are accurate as at the time of publication.